For best results, run this application using Internet Explorer version 5.0 or later, make sure Java Script is enabled and set monitor display to 1024 x 768 pixels. For instructions about enabling Java Script, click here.
---
Table of Contents
---
Personal Property Public Inquiry allows taxpayers to examine tax bills received from Caroline County using the Internet.
---
Click on Continue to Personal Property Inquiry Application link at the top or bottom of this page.
On the Main Screen, press the button containing your preferred method for finding tax information: Social Security Number or Account Number.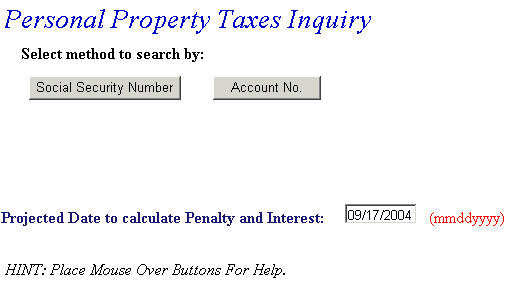 ---
Search By Account Number - Enter the Account Number and at least the first three letters of the Last Name. User can enter a Projected Date to calculate Penalty and Interest. Otherwise, the field defaults to the current date for penalty calculations. Press Search button to find records.
---
Selection Screen - This screen displays all records matching search criteria. Press Details link to view account history, or press Return to Search button and return to Main Search screen.
---
Detail Screen - This screen features detailed information for the ticket selected on the previous screen. Press the Previous button to return to the Selection Screen.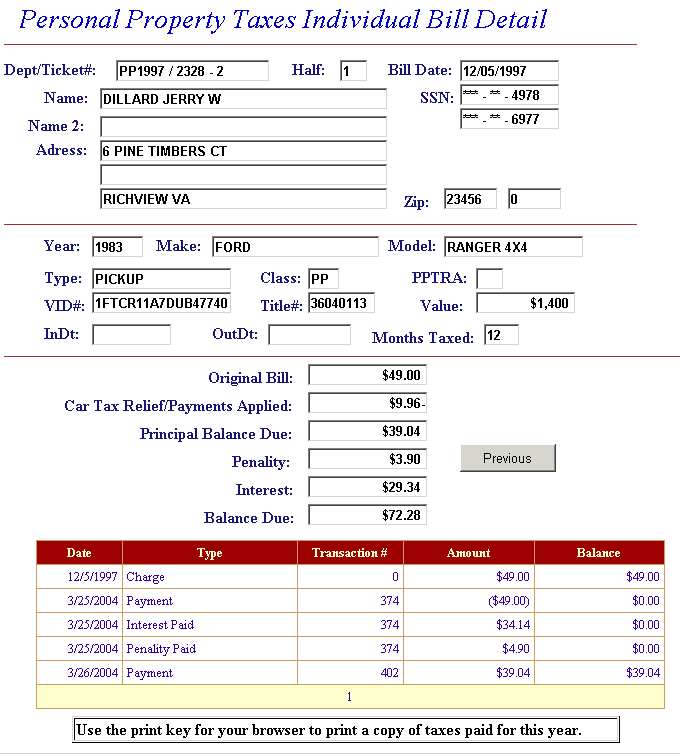 ---